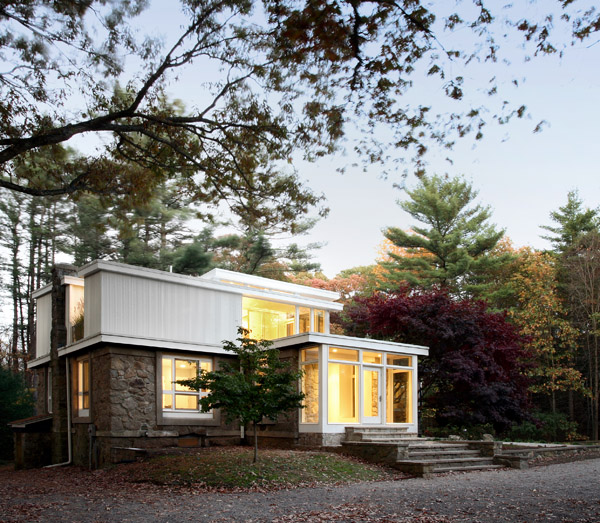 Medfield, MA
This addition above an existing structure expands the experience of the house without physically making it bigger.  The 'interior-ness' of the existing stone ground level is juxtaposed against the 'exterior-ness' of the new second level:  The light-weight and light-filled spaces of the new second floor are separated into 3 separate pavilions.  This fragmentation allows framed views to the surrounding landscape and new captured roof-gardens that both connect and separate the rooms.  Through energy efficient passive techniques including stack ventilation and the strategic use of overhangs, the need for mechanical summer cooling is eliminated.  In the winter the low-winter sun is harnessed to heat the thermally massive floor.

A new second story (photo above) replaced the original dilapidated one (photo below).  A new entry porch was added to unify the new and original architectures.
Instead of increasing the size of the house, the new upper level is conceived of as 3 pavilions (right).  The new spatial seams between the volumes  expand the experience of the spaces creating a dynamic spatial contrast with the inward looking existing ground floor spaces (left).

––
The space between the pavilions becomes a captured bamboo courtyard.
3 pavilions: The concept diagram shows how dividing the program into 3 pavilions allows the house to stay small while extending the sense of space from inside to outside.
Passive solar techniques: A roof overhang blocks high summer sun while allowing low winter sun keeping the thermally massive floor cool in the summer and hot in the winter.
A strategic cut in the ceiling connects the existing ground floor with the new 2nd floor (left).  Natural light and ventilation is now brought into a space that was originally dark and required artificial lighting even during the day (right).

The double height space stack ventilates the house bringing cool air from below and releasing hot air through upper level clerestory windows.  The passive cooling techinique eliminates the need for air conditioning.
PROJECT CREDITS:–
architect
Jinhee Park AIA
John Hong AIA, Anne Levallois, Erik Carlson, Jiseok Park, Ann Ha
structural engineer
Tripi Engineering Services, LLC
contractor
Oteri Construction
fabrication
Osprey Design/Build


RELATED PROJECTS:
[print_link]