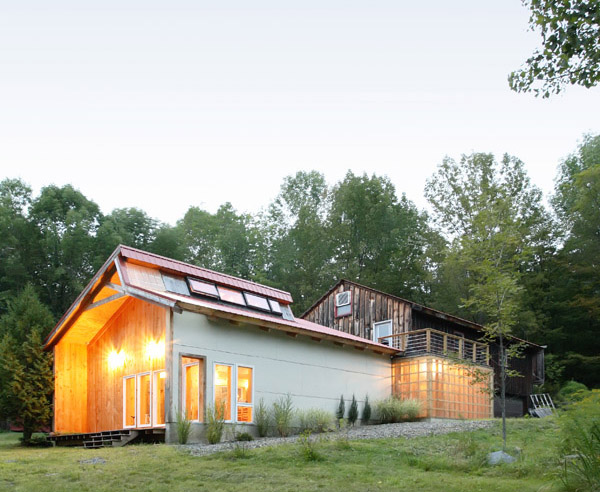 Athens, VT | 2006
[featured in Spacecraft 2]
This recording studio for prominent recording engineer and musician Pete Weiss, solves specific issues of acoustics while engaging the site and context. An extension of an existing century-old barn, the new structure utilizes a transformation of the pitched roofs in the area: a simple 'scissor' truss is mirrored to create both east and west skylights while on the interior, the asymmetrical space allows for a positive scattering of sound. The open end-bay of the structure telescopes views into the rural landscape and creates a rest area for musicians.
A prefabricated  scissor truss is repeated and mirrored to allow for constant illumination throughout the day.

An inset front wall creates a porch-like space for musicians to take breaks within the verdant landscape.  The roof forms echo the existing house on the site.
The project takes a deferential role to the larger natural context.
PROJECT CREDITS:
architect
Jinhee Park AIA
John Hong AIA, Andy Hong, Erik Carlson
contractor
Don Clark Construction

RELATED WORKS:
[print_link]