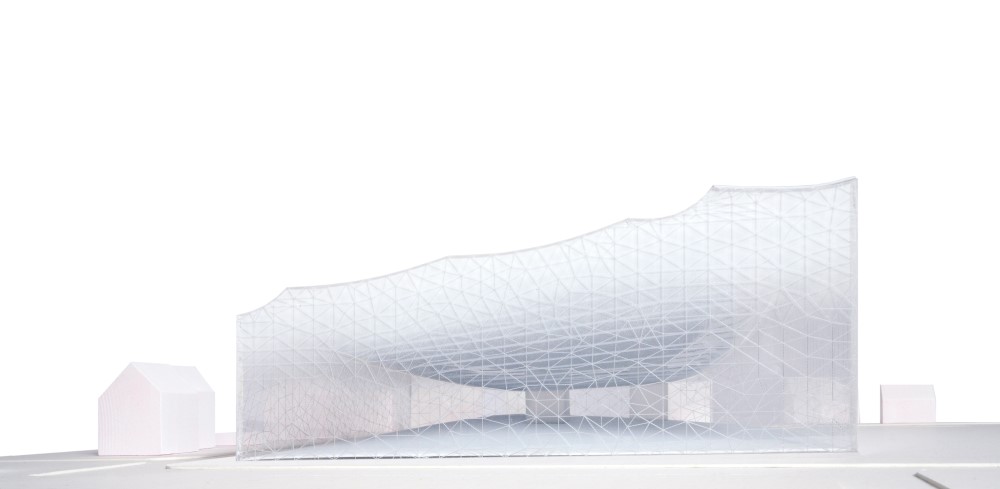 Prague, Czech Republic [international competition, jury selection]
As both a secure repository of books and a symbolic civic building, a national library must negotiate the spatial dichotomy between storage and display. Through a strategy of 'light monumentality' the book stacks are formed into a curved two-way truss that protects and defines a public winter-garden below it. During the day, its specular surface reflects the surrounding cityscape, while at night an internal illumination reveals the massive amount of books and knowledge within. The curved form itself organizes a system of ramped stacks and reading rooms that allow new interactive relationships between books and their viewers.
---
books can be seen as a surface (left). This surface becomes volumetric as stacks are organized along a continuously sloping ramp (right).
During the day, the interior curved skin reflects the urban surrounds while protecting the collections from sunlight. During the night, the interior of the book stacks is revealed.
View of model (left). Structural diagram (right).
From the interior, the rear of the stacks become an organizing apparatus: the user can quickly identify the destination.
From the ground level, the sloping floor of the open stacks allows views into them: the contents of the library become shared cultural property.
view of elevation from park
Sustainability strategies: The refractive geometry of the exterior structure/skin in conjunction with the curved interior glass skin allows diffuse natural light to enter deep into the building. The winter garden combined with the curved volume is used to bring cool air from lower levels and vent rising hot air. Rain water is filtered and reused for secondary uses including building mechanical systems and bathrooms.