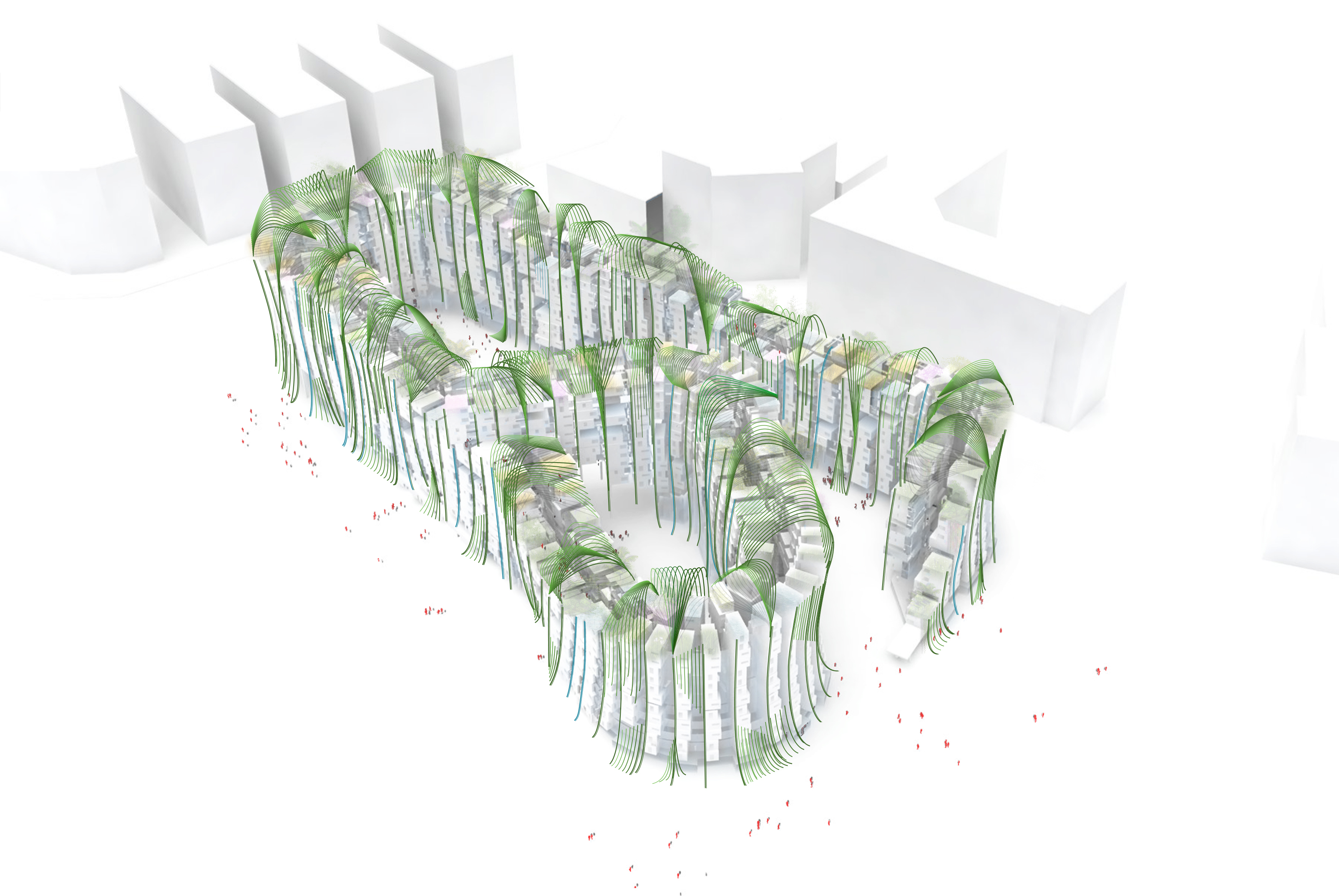 Oasis Place | Kuala Lumpur, Malaysia
[2017 Architizer A+Awards finalist]
The extreme climate in Kuala Lumpur, Malaysia has an important social impact: people tend to live in enclosed and conditioned spaces which reduce the use of public spaces and decrease social interaction. Through the utilization of the site's inherent natural qualities and the given programs, the project with 1,700 units promotes modern sustainable living tuned to today's environmental and social demands.
Like a tapioca pearl, 'gel' of semi-public space surrounds each private module to create shared areas that expand perceptual boundaries. Basic units are arranged in a regularized structural bay.'Tapioca spaces' are introduced between the units, generating porosity in the building.
Two basic 400sf modules in a regularized structural bay are shifted and combined horizontally and vertically to create 20+ distinct units. The modularity allows for flexible accommodation of the large populations enabling adaptability to rapid changes of market and use.
The modularity of the unit system means that the breakdown of unit types can evolve through design, construction, & operation to respond to rapid change of market.
Instead of hard imposing wall, 3 regularized curved sections engineered within conventional structural limitation create an undulating façade with porous voids funneling cool winds throughout the building.
The undulations providing corner views and self-shade reducing the solar radiation by 40% over the course of the day on the solstices (analyzed by Transsolar) eliminating needs for additional shading.
Ventilation voids are strategically positioned corresponding to the prevailing winds for the project to be naturally ventilated for 65% of the year. 
The infinite trail is a never ending animated path that goes between the bottom and the top of the building, promoting a healthy lifestyle and social interaction among its users. These expandable spaces can be combined to host larger groups, leading to diverse scales, relationships and combinations. 
The building mass undulates towards the ground signaling the beginning of the infinite trail and entry to the scheme.
At ground level, the landscaping strategy conceals cars, freeing the entire site to pedestrian use and subtly elevating the ground to allow units to have views out of the site. By using a curved building profile, corner views are maximized, providing panoramic views both out and in of the courtyard spaces.