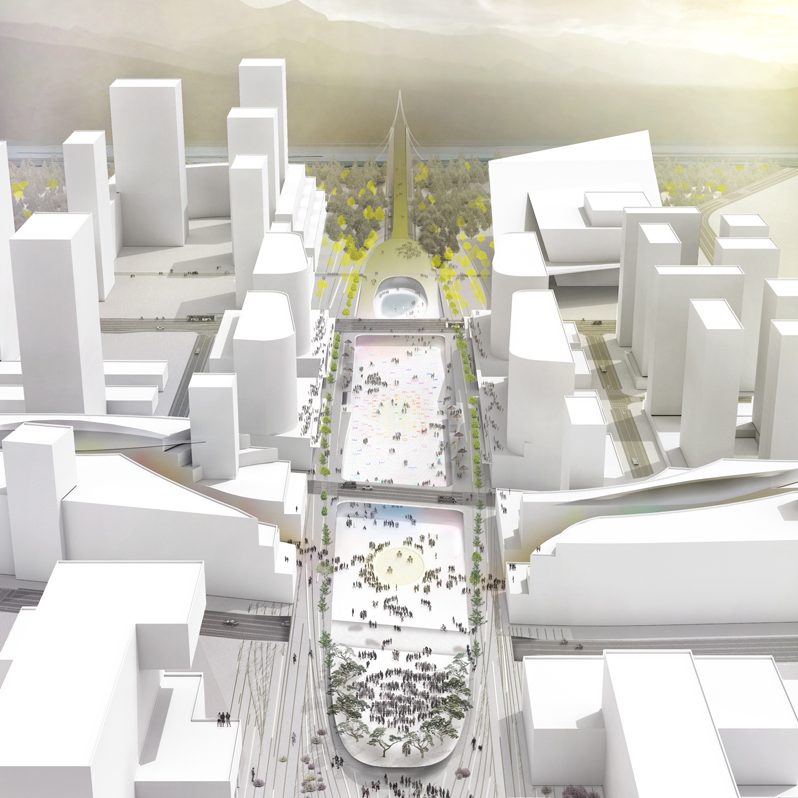 Andamiro – Happy City Plaza
Sejong, Korea
[Third Place Prize, National Agency for Administrative City Construction, Korea Land & Housing Corporation]
The problem with the current location and form of Symbolic Square site has the characteristic of corridor: a path the transports users to many of the city, rather than attracting and connecting the citizens.
In the case of Gwanghwamoon Square where the road and square are connected on the same level, the problem is how to control the traffic.  Whenever there is an event, the cost for personnel is how to control the traffic and citizens' safety restrict the use of square depending on the character and scale of the event, which in turn reduces the use of square.
Even considering the increase in the initial cost, it is considered better in ensuring Sejong's Symbolic Square is continuously used to increase the efficiency of square in the long-run by separating , connecting urban atrium area, commercial-residential complex area and art plaza area through pedestrian path and ensuring the square is safely used the citizens.
The redesign for Sejong's Symbolic Square, would provide a long-term impact by transforming the existing central corridor condition into a continuously public terrain.  The design separates the car and pedestrian circulation in elevation, while maintaining urban density.  Lowering the urban atrium below the existing street level, provides a seamless connection between the surrounding commercial-residential zones and the art plaza.  The new public basin ensures the square is safely used by the citizens.
The long concave impression creates a space that represents democratic ideals; it will become a unique square of Sejong, Korea, and the world.  The elongated shape is not just a path to pass by, but a place to stay and use
The boundary of the populated square is extended to surrounding structures through the seamlessly sloped path.
The contours of the basin extend vertically, creating terracing balconies off the surrounding building to enhance the public square.
These terraces offer a vibrant relationship between the public and private experiences. Horizontally, the footprint of the urban fabric is cropped to broaden the perspectival view of the city and the mountain.
The path is punctuated with event nodes, that diversify the activities and events that occur in the square.  The vegetation transitions throughout the plaza to illustrate Korea's history and path to democracy. 
Seasonal changes in plants and trees, as well as rotating public programs, will offer an ever changing experience of the new public center.
PROJECT CREDITS:
architect
Jinhee Park AIA
John Hong AIA, Dyne Architects/Gwangup Jang + StudioKHK/Hyekyoung Kim + Archiplan/Woosung Kim