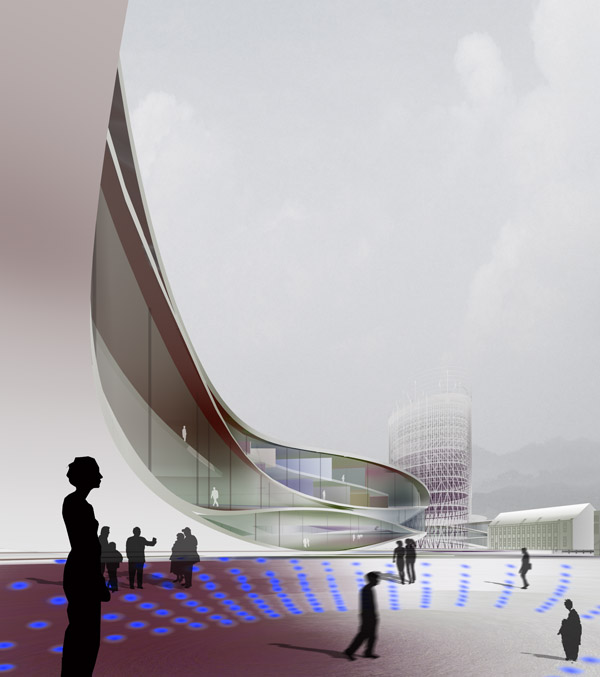 Gwangju, Korea
[honorable mention, international competition]
The act of encircling has both literal and metaphorical meanings: In an urban environment like Gwangju, encircling implies both the demarcation of a special precinct within the city's existing fabric as well as the creation of a new public common ground. Providing a porous, non-hierarchical edge to the urban surrounds, our encircling form expands the democratic territory of the existing Gwangju Fountain into a cultural complex and park on an urban scale. Through the use of a new socio-structural concept in the continuous deflected arch, continuities and reciprocal relationships between the diverse cultural programs within the building are enabled.
SOCIO-STRUCTURAL CONCEPT

1. A flat slab proves inefficient in spanning long distances.

2. Deflection causes the flat slab to fail.

3. A deflected slab in conjunction with an arched slab creates an efficient long-span structure that allows interweaving of programs
UNFOLDED ELEVATION
A continuous undulating walkway becomes a linear public amenity: public spectacles and performances interweave with the building program.
The deflected structure allows the theater program to extend onto the green roof.
FIVE ELEMENTS PLAZAS
To aid orientation as well as to tie current material culture to more ancient asian notions of nature, five plazas symbolizing the essential forces of nature mark the site entry points.
As well as create a space for existing historical buildings and fountain, the project creates an urban scale terminus for the city's major artery.
SUSTAINABLE STRATEGIES
The undulating form allows cross ventilation of the site while the tower harnesses wind currents channeled from the adjacent mountains.   A fully planted green roof across the entire building roof along with a new porous park contains all the stormwater onsite.  Geothermal loops augment the building's mechanical systems.
–

PROJECT CREDITS:
architect
Jinhee Park AIA
John Hong AIA, Yongjoo Kim (Cambridge 7 Associates, Inc.), Anne Levallois, Erik Carlson, Hyeyoung Kim
structural engineer
Jaeseoung Lee (Weidlinger Associates Inc.)

RELATED PROJECTS:
[print_link]