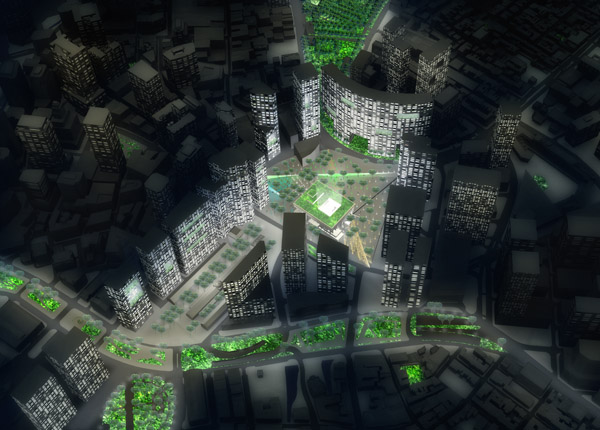 Boston, MA | 2007
[Architecture Boston Feature]
Boston City Hall occupies one of the best pieces of land in Boston. At the intersection of 3 major subway lines and at the geographical heart of downtown, this is an ideal location for a dynamic civic center; however the current City Hall is accused of failing to interface effectively with the public. We propose taking advantage of a latent urban potential: The site is the missing link between the historic Fenway Park and the new Rose Kennedy Greenway.  By allowing the plaza to connect these important open spaces, City Hall will sit pavilion-like in a park, much like a New England meeting house at the center of urban life. Opening the City Hall to its surroundings and reprogramming it with public functions such as a meeting hall, a community/ cultural center, and a civic history museum will also make it an integral part of Boston's historical 'Freedom Trail.'
| | |
| --- | --- |
| | |
The plaza has the latent potential to provide the much needed connection between Fenway Park and the Rose Kennedy Greenway (left).  New public programs at City Hall can allow it to become a new addition to the 'Freedom Trail.' (right).
Revealing the red, green, and blue subway lines brings new public activity to the surface of the plaza.

Section through the plaza: Natural light and ventilation brought to the subway levels can also allow for new programs to be added underneath the plaza.
PROJECT CREDITS:
architect
Jinhee Park AIA
John Hong AIA, Frederick Peter Ortner, Catarina Marques, Jiseok Park

RELATED PROJECTS: