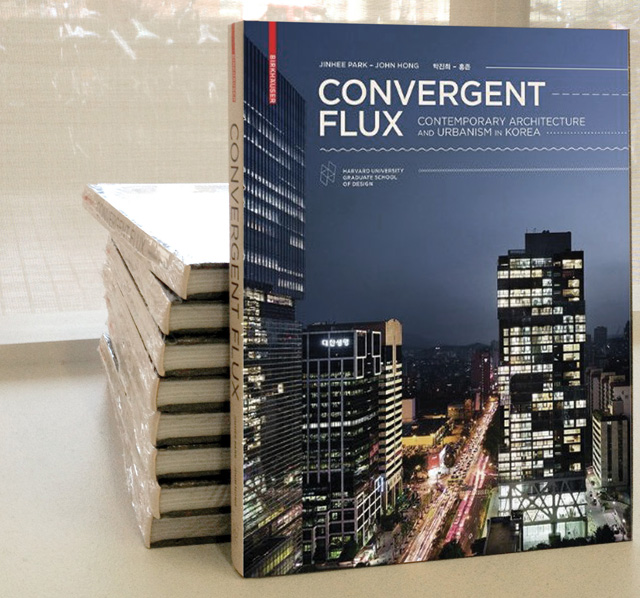 Birkhäuser and Harvard Graduate School of Design
authors: Jinhee Park, John Hong
From the Preface:
In this era of intensifying transnational cultural flows, too often there is still an implied hierarchy: The power centers of information are still North American and European media outlets, especially in the realm of design. The culture of ancient Asia, including that of Korea, has been anthologized in textbooks and film, but what of the immense progress seen in recent decades?
Perhaps it is necessary to look toward new models of evaluating contemporary design within an international context. In extending Walter Benjamin's ruminations on the cultural significance of translation within language to include the language of design, we can see clear parallels between the materiality and form of Korean architecture and the global context of contemporary architecture and urbanism. In the Benjaminian mode of thinking, current architecture in recently evolved cultural centers like Korea should be released from the shadow of some "original" version so that it is horizontally, not hierarchically, related to other contemporary examples. And if we look deeper, we can see that the translation of an idea in effect cancels the "originality" of the original: The once-canonical aspect of the original is unfrozen, given a new mobility, while being revealed as essentially unstable in its ability to be transformed.
Our broad hope is that this book fuels such an international and reciprocating discussion of Korean design—not as a lesser offshoot of some larger international design trajectory but as innovative work in and of itself, with equivalent significance to other contemporary examples. Although the work represented in these pages has benefited from a powerful influx of ideas, the flow of design information is still mainly outside-in, terminating within the small Korean peninsula instead of feeding back into the stream of international discourse. Beyond short articles, to this day there is a lack of significant representation of Korean design from international sources despite the intense recent evolution of the work. The exhibition that we curated in 2010 at the Harvard University Graduate School of Design, which provided the conceptual foundation for this volume, was the first cross-disciplinary exhibition on the subject staged in the United States. This surprising debut points to the lack of larger parallel discussions in which an understanding of Korean design could help expand contemporary notions of materiality, history, typology, and density as they affect our cities and landscapes.
As the current economic situation has cooled construction everywhere, dampening also the intensity of development in Korea, it is now time to pause and ask the existential question:  What have we built? It is our hope that this book can position this query to bring momentum to a continual learning process: What has incubated in Korea should now begin to influence the larger realm of international design culture, while internally the exposure this volume can bring can recontextualize the work within a larger international forum.

BOOK CREDITS:
authors
Jinhee Park, John Hong
editors
Melissa Vaughn, Director of Publications Harvard GSD
Henriette Mueller-Stahl, Andreas Mueller, Ria Stein, Birkhäuser Publishers
publisher
Birkhäuser and Harvard Graduate School of Design, Basel and Cambridge 2012
project initiation
Mohsen Mostafavi, Dean, Alexander and Victoria Wiley Professor of Design Pat Roberts, Executive Dean Hannah Peters, Associate Dean of External Affairs
advisor
Hailim Suh, Kenzo Tange Professor
research and production assistants
Park Bosun, Greg ChungWhan Park, Kim Taesoo, Lee Donguk
seminar research team
(GSD seminar participants under the direction of the curatorial team with Hailim Suh and the Exhibitions Department of the GSD). Christina Cho, Kent Gould, Mark Holmquist, Okhyun Kim, Sooran Kim, Clara Lee, Jinju Lee, Moran Lee, Greg GhunWhan Park, Gyoung Tak Park, Terry Sung Park, Hyun Ji Ryu, John Son, Jeong Jun Song, Kyung Ho Won, Hyun Tek Yoon, Hyung Jae Yu
exhibition team
Dan Borelli, exhibitions Shannon Stecher, Exhibitions and Publications Melissa Vaughn, Publications

RELATED PROJECTS:
| | | | | |
| --- | --- | --- | --- | --- |
| | | | | |
| convergent flux gsd | korea society | bac sasaki | sponge park | white block |